If you've visited my blog at all since yesterday afternoon you should have noticed a HUGE difference! (if you haven't visited, get your butt over here and check me out!) "Why?!?!", you ask? BECAUSE I'M SUPER PRETTY NOW! and it's all thanks to Tara over at
Blog Makeovers By Tara!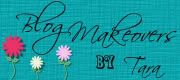 Goodness Gracious, this girl rocks! I had such a great time working with her, she kept me updated every single step of the way.
I started out by picking out a design kit that I liked
and filled out a form on her site.
She then contacted me with any questions that I didn't answer on the form,
asked me what I had in mind,
helped me on a few things that I had no clue how to do,
and gave me an estimate on when everything would be done.
She even sent me a testblog link THREE times along the way, so that I could see the progress and okay everything!
One of the coolest, and most important, thing to me was that it only took 3 days start to finish. This included: shooting emails back and forth on ideas,
a day off for Tara to become a landed immigrant in Canada (CONGRATS GIRL!),
and installation!
I can't say enough about working with Tara, or her work. Really, It speaks for itself and it says "Freaking Awesome!!"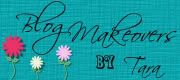 Check out all of her work, design kits, and deals at Blog Makeovers by Tara.
AND AS A READER OF "THE FIRST TIME AROUND" YOU WILL RECEIVE $10 OFF ANY PACKAGE ORDER!
Just enter The First Time Around in the additional information area of the order form!
SO take a look around, click on the new links, add my new BUTTON to your blog, and let me know in the comments what you think about it all! (Really I want to know your honest opinions! Do you love it/hate it/ think it's okay? or Did I miss anything?)